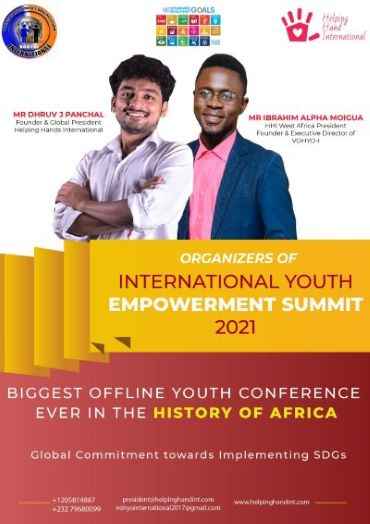 Helping Hand International Team is glad to announce that we are organising an upcoming event- "International Youth Empowerment Summit 2021" on 15th and 16th January in collaboration with the Voice Of Hope Youth Organisation. The entire HHI team takes immense pride to bring under your notice that this upcoming summit will be the Biggest Offline Youth Conference Ever In The History Of Africa to be organised by an first Indian Organisation in an African region*. Furthermore, the HHI team is elated to inform that the First Lady of Sierra Leone, Mrs Maada will be attending the summit as the chief guest. This notable event is going to leave behind an esteemed mark in history as the event has targeted to engage the youths around the globe.
It is a two day offline conference wherein the participants and all the invitees are expected to present, discuss and bring about probable solutions to the prevailing tensions in Africa and beyond. Alongside, the strategies for implementation of required SDGs will be brought under focus. Engagement of youths and their participation on the aspiring projects will be another matter of concern of the event.
The SDG 16- Peace, Justice and Strong Institutions will be focused more, as it is quite evident that existence of a strong institution strengthens respective nations. Efficiency and anti-corruption are the prime factors that determine the strength of an institution. Thus, the SDG 16 holds utmost importance to build a stronger institution which would guide and safeguard the citizens in all possible domains.
Together We Can Bring A Change!