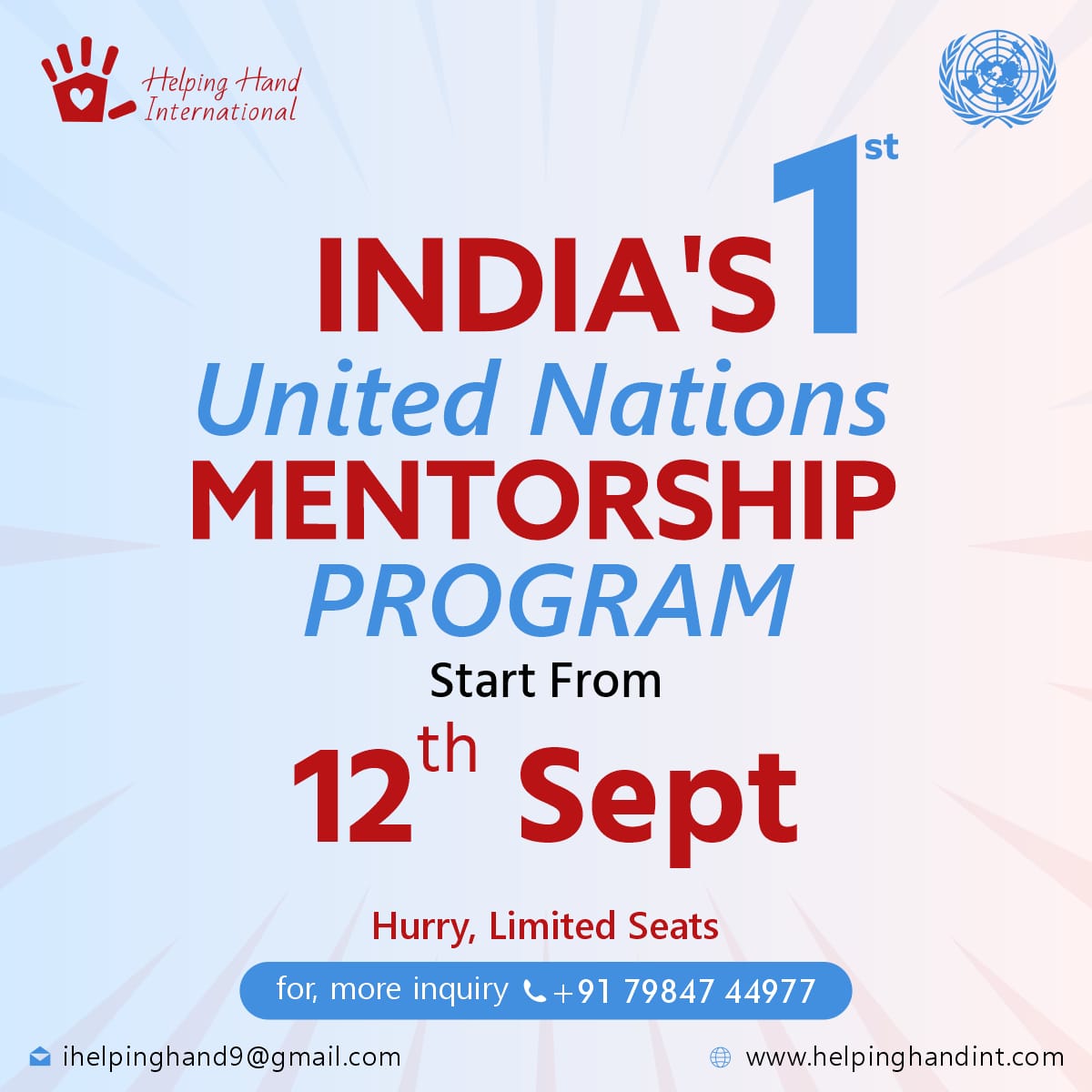 India's First United Nations Mentorship Program Helping Hand International invites you to join India's first UN Mentorship Program wherein officials working with the United Nations will train you and help you grab an amazing job in the UN..
The United Nations provides numerous vacancies and working opportunities for all it's agencies throughout the year, but due to lack of knowledge or adequate qualifications, individuals aspiring to work with the UN are unable to secure a job. Indians who work with the United Nations generally belong to the elite class, and the general people have little or no exposure to the workings of the United Nations, thus to end this inequality and to secure a career with the International Organization we invite you to register with India's first UN Mentorship Program.
The program starts from 12th September 2021
Program duration - 1 month
Fees - Rs.2500/ only
( Our team will contact you through a phone call for the payment after your successful submission of the form )
For any further detail or query please contact us on +917984744977
Why are we here ?
1.To open the doors of UN to all who aspire to work with it
2. To train you to get a job at UN
3. To connect you with officials working in the United Nations
4. To introduce you to India's first UN Mentorship Program

Why work with the UN ?
1. Gives you an International career at a young age
2. Opportunity to work with International diplomats
3. Opportunity to contribute towards maintenance of International peace and security
4. Chance to work for human rights and to promote sustainable development for saving the environment
5. Chance to travel to different countries as a diplomat
6. Opportunity to work for the betterment of the society, country and world as a whole.

Why mentorship is important ?
1. Gives you a road map to joining the UN
2. Provides proper guidance
3. Provides exposure to ground level knowledge
4. Keeps you updated with latest trends in hiring process
5. Keeps you informed about latest opportunities and helps you prepare accordingly

How will we help you get a job at UN?
1. Provide 360° knowledge about the UN and what it's like to work with it.
2. Help you build UN friendly CV
3. Help you fill up forms for joining the UN
4. Take mock tests and interviews to prepare you for the hiring process
5. Help on personality and skill development

Details of India's First United Nations Mentorship Program:

https://drive.google.com/drive/folders/1r2BCB30Sj0faaNDH59sIflX3PYiXToPx?usp=sharing